The Contract Wars Client is standalone client made by AbsolutSoft. On 8 March 2018, all social network instances of Contract Wars were shut down, leaving the Windows-only client version the only remaining way to access Contract Wars.
Features
The Contract Wars Client is a Windows-only software. It is identical to the browser version with the exception that it has a client-side anticheat.
Social Networks
Prior to the shutdown of Contract Wars' social network versions, users could link their account on networks to the standalone version and use both on the same account. On 8 March 2018, the online versions were discontinued and subsequently disappeared from all social networks with the exception of Kongregate. Users are now required to create a new account on the game's website and sign into the client.
Kongregate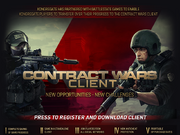 "Due to shifts in browser gaming technology, Contract Wars will be transitioning from web to a downloadable client. We partnered with AbsolutSoft to enable you to transfer your Kongregate account so it remains accessible in their new client! Log into your Kongregate account, click the button in the game and it will take you to a separate website with further instructions."
— Description.
Unlike on VK, Facebook, etc, the game's page on Kongregate is still online, providing a way to port one's savegame into a new Contract Wars account to use with the standalone version of the game. Doing so creates a new account but keeps all progress players made in the Kongregate version of Contract Wars.
Community content is available under
CC-BY-SA
unless otherwise noted.