HK 417D
Price
Tier

3

Caliber

7.62x51mm

Magazine capacity

5 mags. -- 20 rnds.

Firing mode(s)

Auto, Semi

Accuracy

88

Recoil

68

Damage

55

Rate of fire

51

Mobility

53

Reload speed

72

Penetration

35

Effective range

55 damage at ≤ 130 meters

Maximum range

30 damage at ≥ 220 meters
"417D is a battle rifle designed and manufactured in Germany by Heckler & Koch. It is a gas-operated, selective fire rifle with a rotating bolt and is essentially an enlarged HK416 assault rifle. Chambered for the full power 7.62x51mm NATO round, instead of a less powerfull intermeditate cartridge, the HK417 is intended for use as a designated marksman rifle."
- Description
The HK 417D is a tier 3 premium battle rifle
Overview
Classified as battle rifle, HK 417D is an all-rounded rifle, having good base accuracy, damage and penetration. It even better is having a very good base effective range, which is far outclassed most of premium weapons in the same tier only behind EBR Marksman. However, it has very bad visual recoil, which requires bursting to be effective at longer range. It is also having a low rate of fire, which may not be suitable for close range where most SMGs and shotguns dominates.
W-task
"Unknown"
- Description
417D w-task is 250 longshots. Finishing it will give 417D an ACOG optic and is renamed into 417 D ACOG, which provides better accuracy and reduced recoil as a trade for lower mobility.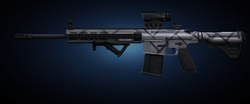 | | |
| --- | --- |
| Accuracy | +7 |
| Recoil | -4 |
| Damage | - |
| Mobility | -6 |
Tips
This is a good weapon for its tier, it can also compete against higher tier weapons like KelTec RFB and SCAR-H.
Avoid close range encounters, 417D is not good as SMGs and shotguns in such situations.
Its range is higher than most of assault rifles and battle rifles, allowing players to easily shoot and kill without getting too close.
Its sound is quite loud so you might want to switch to any silenced pistol if an enemy is close to you.
Gallery
(Need pictures)
Videos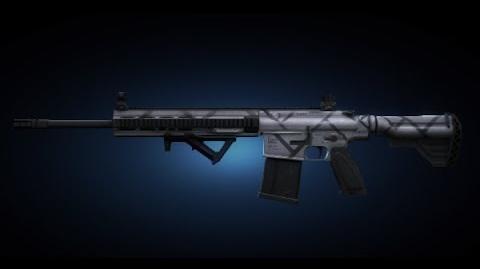 Community content is available under
CC-BY-SA
unless otherwise noted.