KelTac RFB
Price

40000

Price to buy W-Task

220

Price to perma-repair

120

Tier

4

Caliber

7.62x51mm NATO

Magazine capacity

5 mags -- 20 rnds.

Firing mode(s)

Semi

Accuracy

75

Recoil

70

Damage

62

Rate of fire

35

Mobility

68

Reload speed

55

Penetration

40

Effective range

35 damage at ≤ 50 meters

Maximum range

62 damage at ≥ 150 meters
"KelTec RFB (Rifle, Forward-ejection, Bullpup) is an ultra-compact semi-automatic rifle with a 7.62x51mm ammunition. It has a high damage, mobility, but also high recoil and low accuracy."
- Description.
The KelTek RFB is a tier 4 assault rifle.
Overview
RFB is a unique weapon in the game. It features a more like semi auto sniper performance when tasked. When not tasked, it rather hard to use with it bulky iron sight, which could be challenging when tasking the gun. After tasking it performance is dramatically changed, with players can actually now making kills at long distance with ease, overall it can replace some similar weapons like EBR Marksman or DT SRS if they had no option to get GP.
W-Task
"Modernized with x4 optic and special silencer RFB becomes more like a sniper weapon."
- Description.
RFB's wtask is 200 longshots. Finishing it will give RFB a rifle silencer and x4 optic and is renamed to RFB Sniper. Allow more long range combat and more stealth capability, but due to a bug that affects all carbine sniper, it scope is extremely sensitive to the slightest movement make it harder to aim with precision.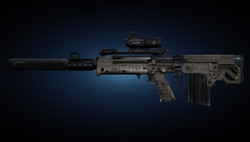 | | |
| --- | --- |
| Accuracy | +7 |
| Recoil | -6 |
| Damage | -9.3 |
| Mobility | -9 |
Tips
It iron sight is not the best to aim for head at long distance so shoot it slowly
It has a slightly higher ROF than most of carbine rifle, allows players to shoots as quick as they can tap so use it advantages to kill enemy faster.
With proper skill set, it is nearly same as any semi auto rifle, required 2 hit to down an opponent so it can replace some aspect of a sniper rifle.
Scope is very sensitive so hold left shift when aiming to lower it and get higher stability.
Trivia
Before it appearance changed, it used to have it own unique optic, which is more easier to take aim when aiming down sight.

It is also having it owns unique iron sight before updated appearance
Gallery
Videos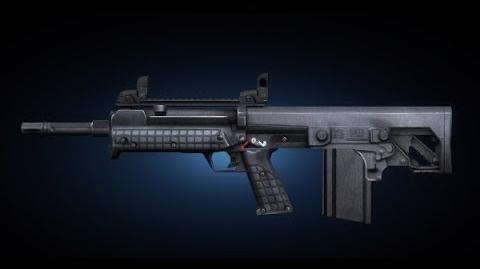 Community content is available under
CC-BY-SA
unless otherwise noted.