Saiga Full Auto (FA)
Price
Tier

Spec

Caliber

12 gauge buckshot

Magazine capacity

5 mags -- 20rnds

Firing mode(s)

Auto

Accuracy

45

Recoil

195

Damage

140

Rate of fire

28

Mobility

41

Reload speed

42

Penetration

35

Effective range

140 damage at ≤ 15 meters

Maximum range

0 damage at ≥ 50 meters
"Saiga 12K, heavily modified and enabled to obtain full auto fire. Also equipped with high-capacity ammo magazine for 12 gauge rounds. Doomsday device."
- Description
The Saiga Full Auto is the unique shotgun of the assault skill tree.
Overall
Just like the description said. The Saiga Full Auto bring nightmare to CQB map like Evac and Bay5. With 20 rounds of full auto fire, anything on it path is killed mercilessly. Saiga Full Auto is the best shotgun you can get.
W-task
"Saiga FA equipped with red dot sight by Aimpoint and 12 caliber slug ammo. And don't tell us you are not ready for zombie apocalypse"
- Description"
Saiga Full Auto w-task is 50 rage kill. Finishing it will give player a red dot sight and slug ammo for Saiga FA and is renamed to Saiga Z(ombie)Hunter. However like every shotguns with slug ammo usable, it task is not widely used. But slug ammo can be little benefit on Saiga FA if anyone wants to fight at mid range.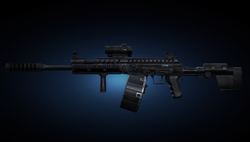 | | |
| --- | --- |
| Accuracy | +5 |
| Recoil | -3 |
| Damage | 0 |
| Mobility | -4 |
Tips
Even you finish wtask, it still pretty useless since shotguns ammo will deal 0 damage at 50m~
Because of it full auto fire, triple kills and quad kills can be achieved with little effort so don't be afraid if you ran into enemy team new spawn site and rush in !
Remember that when you reset your skill, Saiga FA will be locked again and need to unlock so make sure your decision if you don't want it anymore.
Trivia
Saiga Full Auto exists in real life and it is possible to modify any Saiga shotguns full auto. Some company even provide their services if customer wanted to remove any limitations of export firearms.
Gallery
Videos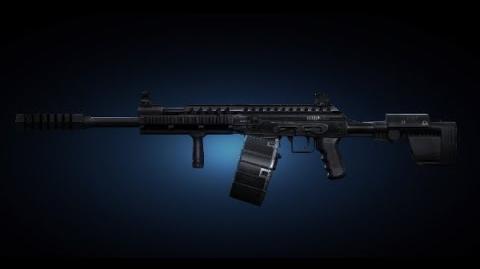 Community content is available under
CC-BY-SA
unless otherwise noted.