IWI X95-R
Price

280000

Price to buy W-Task

165

Cost per repair point (c/ps)

75

Price to perma-repair

355

Tier

6

Caliber

5.45x39mm

Magazine capacity

5 mags. -- 30 rnds.

Firing mode(s)

Auto, Semi

Accuracy

65

Recoil

64

Damage

35

Rate of fire

92

Mobility

60

Reload speed

62

Penetration

30

Effective range

35 damage at ≤ 60 meters

Maximum range

14 damage at ≥ 140 meters
"Israli assault rifle compact made in bullpup configuration and chambered with Russian 5.45 x 39 rounds. Has a high rapid fire rate, light weighted. Also equipped with Mepro collimator."
- Description
The X95-R is a tier 6 assault rifle.
Overview
As an assault rifle, X95-R possessed an unusual high rate of fire, compared to the level of SMGs, capables of putting down many players with even it small 30 rounds magazine if players bursts carefully. The gun is equipped with Mepro collimator by default, giving it a big advatanges over guns without w-task. Unlike KAC PDW's collimator, X95's have smaller dot compares to KAC PDW bulky one, allows players to acturally makes kill at medium/long distance. Switch time is also fast but reload speed only at medium level.
W-task
"X95-R assault rifle equipped with rifle silencer"
- Description
X95-R w-task is 30 triple kills, finishing it will give X95 a rifle silencer and is renamed to X95-R Silenced, giving it stealth capability and makes it more accurate as well as lower it recoil as a trade for lower damage and mobility
| | |
| --- | --- |
| Accuracy | +5 |
| Recoil | -5 |
| Damage | -5.25 |
| Mobility | -7 |
Tips
Treats it like SR3M, X95 is basically a CR equivalent with faster reload.
Bursts carefully, X95-R have very high rate of fire, it can chews ammo quickly, leaving player needs to reload frequently.
Accuracy can drop quickly if you don't perm it, it could be a problem to free players as player needs to constantly exit the match and repair.
Hip fire is average so don't expect to be it good like all weapons
Thermal sight is not recommended using with X95, as the dot is still blurry like the one from KAC PDW
It is recommended using X95 with Fire Stabilization skill, as it will help X95 have better accuracy in long range, useful for most of situations
Trivia
For a tier 6 rifle, it's have lower repair cost than SCAR H as well as other.
Even have low repair cost, it still degrades very fast like the rest of tier 6 guns
Other than X95, it is called officially as MTAR-21 or Tavor-2 for others.
Gallery
(Need pictures)
Videos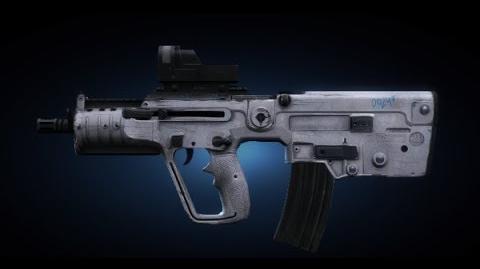 Community content is available under
CC-BY-SA
unless otherwise noted.